Posted by st3wart
on 2008/9/30 0:57:03
(
771 reads
)
After conquering Asia time and time again under coach Hossein Shams, Iran have set their sights on transferring their continental dominance onto the global stage. To improve on their semi-final performance at Hong Kong 1992, coach Shams is embarking on building a more competent side. With youngsters Ali Asghar Hassan Zade and Mostafa Taiebi complementing veterans such as Mohammad Reza Heidarian, Vahid Shamsaei and Kazem Mohammadi, Shams puts faith into the players' individual talents to break new ground at Brazil 2008. "The team have made very good progress and the players' personal technique is helping out," he said. "We have some very special talents in futsal to count on."

Iran is ranked 6th in the world. The Futsal World Cup tournament is taking place September 30th to October 19th in Brazil.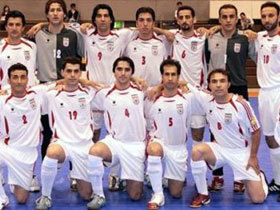 Futsal World Cup 2008
The comments are owned by the author. We aren't responsible for their content.