Kepada pemain-pemain futsal di luar sana, mari tunjukkan bakat anda di "JOM CHALLENGER FUTSAL TOURNAMENT 2014"

TEMPAT : Challenger Sport Centre, Cheras
TARIKH : 28 September 2014
MASA : 8.30 am - 5.00 pm

Yuran pendaftaran hanya berjumlah RM190.00 sahaja.

Grand Prize : RM2,500
Tempat Kedua : RM1,000
Tempat Ketiga : RM 500
Tempat Keempat: RM 500

Pada yang berminat, boleh hubungi kami di:

email : jomfutsal.here@gmail.com

sms/whatsapp : 1) Rafiq - 011 3230 9775
2) Naim - 011 3230 9803
Posted by st3wart
on 2014/8/12 17:06:22
(
211 reads
)
Kepada pemain-pemain futsal di luar sana, mari tunjukkan bakat anda di "JOM CHALLENGER FUTSAL TOURNAMENT 2014"

TEMPAT : Challenger Sport Centre, Cheras
TARIKH : 24 Ogos 2014
MASA : 8.30 am - 5.00 pm

Yuran pendaftaran hanya berjumlah RM170.00 sahaja.

Grand Prize : RM1,500
Tempat Kedua : RM1,000
Tempat Ketiga : RM 500
Tempat Keempat: RM 200

Pada yang berminat, boleh hubungi kami di:

email : jomfutsal.here@gmail.com

sms/whatsapp : 1) Rafiq - 011 3230 9775
2) Naim - 011 3230 9803

Posted by st3wart
on 2014/7/18 22:16:20
(
256 reads
)
It's that time of the year again when HELP University hosts the most exciting event, Futsal Fiesta! This year, we have prizes worth up to RM5000! Normal price for registration is RM180 per team, but if you sign before 1st August 2014, your team will receive a discount of RM30! The closing date for registration is 28th August 2014, so make sure you sign up by emailing us at hmcfutsalfiesta@hotmail.com. Make sure we see you there for this thrilling event on 30th August!


Posted by st3wart
on 2014/4/16 22:16:58
(
345 reads
)
The Star



Sweet success: Champions Brabus United celebrating their victory after triumphing 16-13 over Dani FC in the Puma evoPOWER Futsal grand finals.

AFTER doing battle for two months in the Puma evoPOWER Futsal Tournament, Brabus United have emerged as the champions.

In the final, they dominated Dani FC 9-1 going into the interval and it looked like the latter would stage a comeback in the second-half after closing the gap.

But in the end, Brabus United only just managed to contain Dani's comeback in the second half to triumph 16-13 in the intense and thrilling finals held at e@Curve.
Posted by st3wart
on 2013/12/3 16:33:08
(
561 reads
)
Posted by st3wart
on 2013/11/17 17:20:17
(
488 reads
)
Harian Metro

Kuala Lumpur: Cabaran Dashing 2 memulakan saingannya bulan ini dengan pertarungan futsal di peringkat wilayah untuk merebut wang tunai RM10,000 pada pusingan akhir 13 Disember ini.

Menariknya perlawanan diadakan di bawah pancaran lampu neon yang mencabar fizikal dan mental pemain untuk menjaringkan gol.

Satu klinik di bawah program Klinik Latihan Futsal Cabaran Dashing 2 dikendalikan bekas pemain dan pemain kebangsaan serta Selangor, Rusdi Suparman, Afiq Azmi dan Bunyamin Umar sudah diadakan 13 September lalu.

Berita penuh.
Posted by st3wart
on 2013/8/20 17:35:33
(
513 reads
)
Goal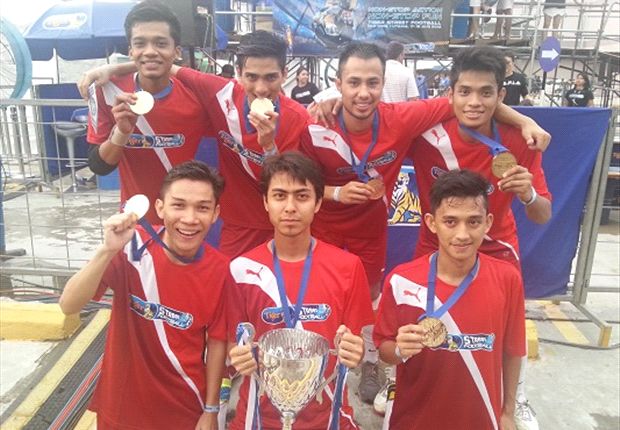 Malaysian side Bobai FC were unexpected winners of the International Tiger Street Football crown in Kuala Lumpur, revealing that analysis of opposition guided them to success

It was a proud day for Malaysia in the 2013 Tiger Street Football International categoriy as a local team, Bobai FC, won the tournament after beating England's Manchester Futsal Club in the final.

They beat their opponents 3-2 in the final to win US$5,000 as well as a trip to Ho Chi Minh, Vietnam to play in the Grand Finals of Tiger Street Football in November.

Speaking to Goal, Vice-Captain of Bobai FC, Mohd Rizki, said after the game: "We are so happy with the victory because we actually didn't expect to win the tournament.

"We had to face strong teams from Holland and England to achieve this and we just kept our confidence at a high to win the games."

Full news.
Posted by st3wart
on 2013/8/15 17:51:24
(
469 reads
)
TimeOut KL

The Tiger Street Football brings together top local players who will battle against acclaimed international street football players in a customised oval cage to claim the crown of Tiger Street Football Grand Champion and a fat cheque of USD$30,000.

In partnership with FOX International Channels Asia, the tournament will have an array of exciting sideline activities, ranging from live performances to appearances by legendary Italian football star Fabio Cannavaro (pictured) and the popular Tiger Cage Girls. You can also catch the two-day tournament on FOX Sports.

Address: Old Wing @ 1 Utama, Lebuh Bandar Utama, Bandar Utama City Centre Bandar Utama, 47800 Petaling Jaya.
From: Aug 17, 2013 To: Aug 18, 2013

Sourced from TimeOut KL
www.theborneopost.com

KUCHING: Setelah 10 tahun menyepi, Pertandingan Bola Sepak Veteran Pesta Kuching 2013 bagi merebut Piala Datuk Bandar kembali memeriahkan kalendar tahunan Majlis Bandaraya Kuching Selatan (MBKS).

Ia dianjur oleh MBKS dari 18-25 Ogos sempena sambutan Pesta Kuching 2013.

Penganjur Kejohanan Irwan Zulkarnain Hasbi berkata dua kategori akan dipertandingkan kali ini iaitu bola sepak veteran antara jabatan 45 tahun ke atas dan futsal remaja 15 tahun ke bawah.

"Lima pasukan jemputan iaitu Polis, Bomba, MBKS, Jabatan Pendidikan dan Jabatan Tanah dan Survei bakal berentap bagi merebut kejuaraan dalam pertandingan bola sepak veteran.
"Ia akan dilangsungkan di Padang Jubilee dari 18-25 Ogos.
Manakala bagi kategori futsal, ia akan diadakan di Stadium Tertutup MBKS dari 24-25 Ogos," katanya semasa sidang media semalam.





Posted by st3wart
on 2013/7/17 23:55:10
(
522 reads
)
The Star




DETERMINED to get into the grand finals of the Milo Hidup Bola futsal tournament, the Kuala Lumpur-based Court Soccer A team entered preliminary legs in seven states around the country.

"We even travelled to Sarawak to play in the qualifiers there but we did not make it," said team manager and coach Hasan Kasim, 43.

The tournament involved a preliminary round for the Under-12 and Under-16 categories in each state where the top two teams will qualify for the grand finals.

Full news